I can't find the time to read, yet another, blog – I come across another one to add to my ever growing list.
Since my posts are so infrequent these days I thought I would share a few of my favorite web sites that aren't necessarily RV related.
Just move your mouse or cursor over the highlighted title and click – or CTRL & click to follow the link.
Anyone out there that knows me at all will know that my first and foremost recommendation would be The Pioneer Woman. For the last couple of years she has entertained literally thousands of fans. I've read that she gets anywhere from 50,000+ page views a day or 13 – 20 million hits a month. She has great contests and prizes and it's nothing for the entries to pop up to 40,000 in less than 24 hours.
My home page is actually her web site. Now, don't get me wrong - I don't want to be like Pioneer Woman . . . I just wanna be her BFF
.
Her cookbook is on my kitchen counter and her book 'From High Heels to Tractor Wheels has a special place in my little library.
From photography to home schooling – she does it all! Not everyone likes her or her blog but that's the nice thing about blogs – you can read them or not.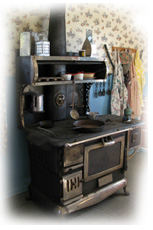 Hillbilly Housewife is a site that features low cost cooking from scratch focusing on frugal living.
Cow Patty Surprise is a funny lady straight out of the Ozarks.
"I am a fun loving farm wife. A modern mother and a gleeful gardening Grandma of eight.An A-type personality with an artful flair. A primpy person who can also sling manure with the best of 'em. I am a unique creative creature of God. I am blessed!"
The Redneck Mommy is a Canadian writer from Alberta.
Be sure to read her bio for a complete understanding of this talented lady. . . 'lady' may be questionable as she quite often tells it like it really is.
If you want to organize your home, your family or your life The Fly Lady will be able to get you started and keep you moving.
Be warned – you will need to first 'shine your sink'! Oh! and wear tie-up shoes.
365 Days of Crockpot is exactly what it says it is! Learn how to create desserts and other goodies in your slow cooker.
These are just a few links to some of my favorites. I do not or will ever receive any compensation from any of the above links.
I am simply sharing with you 'cuz that's the kinda girl I am
.
How about sharing some of yours?